If you love your tennis, this is the place to be! Our adult tennis programs including tennis coaching, social tennis, fixtures, club sessions and much more.
We're all about serving you up something special here, which is why we've invested to make sure you have some of the very best tennis facilities in Adelaide at your disposal.Whatever it is you're looking to achieve on the tennis court, we can get you there. From settling you in, to developing your game and enabling you to compete, we offer the total package. We're all about being our personal best, so you can too.
Our Adult Tennis Programs include Tennis For Beginners, Adult Tennis Coaching, Cardio Tennis and Social Tennis for those wanting to learn and improve and external leagues for players who are ready to get some matches under the belt!
Contact our friendly staff for more information and come along and enjoy the new facilities at the Playford Tennis Centre.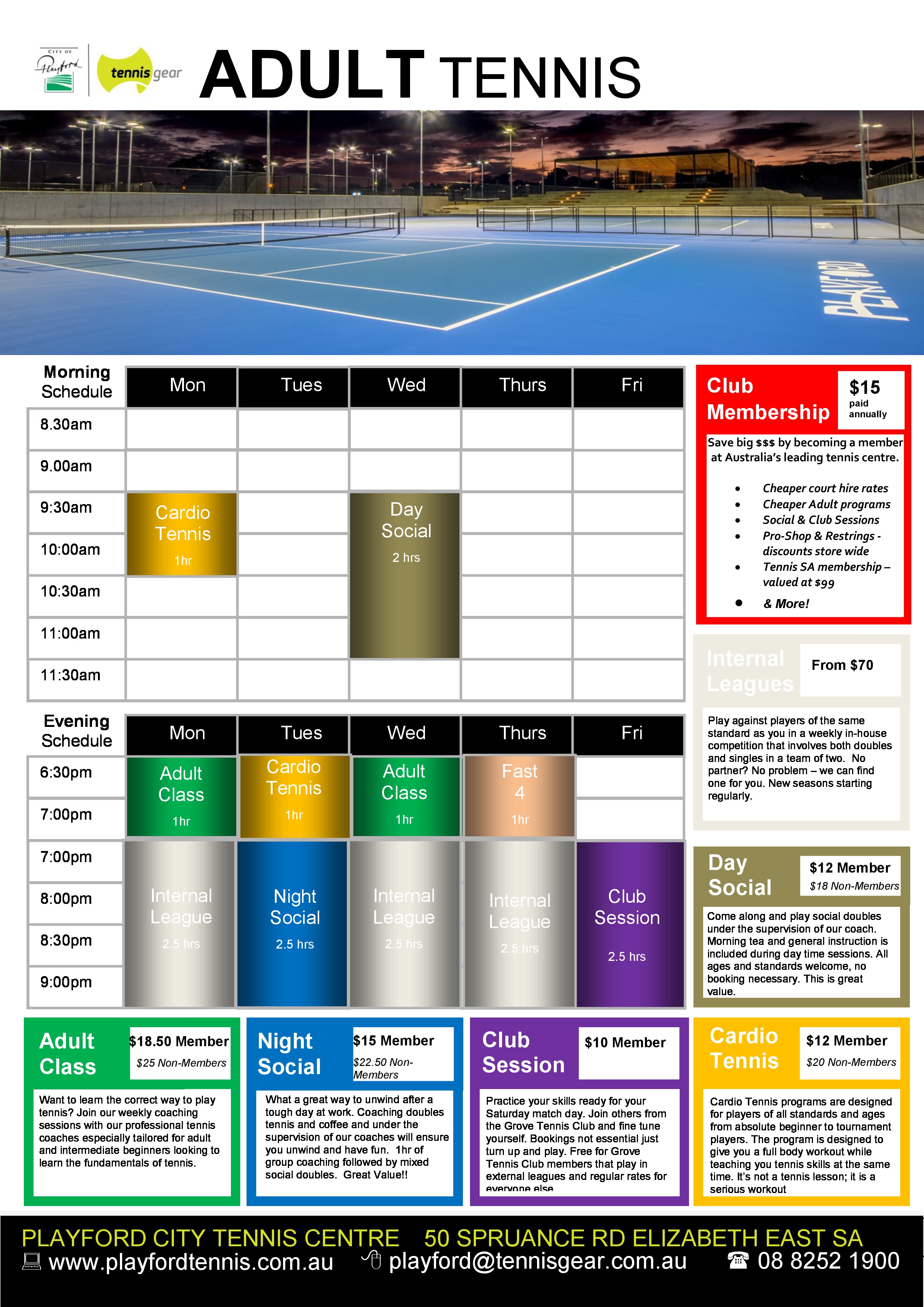 Adult Coaching
More information regarding our comprehensive adult coaching programs can be found by clicking here.
Social Tennis
Open to all tennis members, social tennis sessions are a great opportunity to meet and play doubles with a cross-section of other tennis players. All you have to do is turn up at the clubhouse and we'll get you started.The coach will introduce you to lots of members to play doubles with for the session. It's the easiest way to meet new members and have some guaranteed tennis.There are five social tennis sessions every week at a cost of just $12 (day) or $15 (evening):
Tuesday: 7.30am to 10.00pm
Wednesday: 9.30am to 11.30am
Friday: 7.30pm to 10.00pm
Don't forget our fantastic Adult Coaching / Social Tennis deals where you get 1 hour of tennis coaching followed by some social tennis games to work on those new-found skills! Prices start from just $18.50, click here for more information.
Fast4 League
Fast4 Tennis has blown onto the scene at the Playford Tennis Centre and has become a huge hit in a short time. Our Fast4 League is held on a Thursday night from 6.30pm to 7.30pm (approx.) and is a great way to fit in 3 solid sets of tennis in a short time frame. Players are graded for Fast4 Tennis and put into a league of similar standard – if you win your league you move up the following week, if you finish last you move down. This ensures you are always playing against new players of an appropriate standard. Playing standards vary however if you're new to tennis we recommend going into one of our adult coaching programs first to build up your level to competition standard. Fast4 Tennis at the Playford Tennis Centre costs just $15 per night. Bookings are essential as we only have 24 spots available each week. Call the centre to register your interest for the competition.