Playford Tennis Centre | Our Staff
The Playford Tennis Centre employs two full-time management staff and also has a number of tennis coaches providing group and private coaching.
Our coaches work under the instruction of Tennis Australia qualified supervisors, licensed, Working with Children checked and have first aid training.
 Playford Tennis Centre Manager: Damian Vejnovic
Bachelor of Science – Forensic Science, Criminology and Criminal Justice
Level One Tennis Coach
Former Queensland Ranked Junior
#1 player for Cavendish Road High School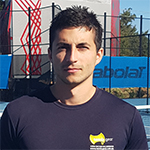 Damian began playing tennis at an early age with his father, and quickly began playing in the Queensland tournament system. Damian received coaching by high level club professional coaches all around Brisbane and travelled to tournaments and training camps as far as Cairns in Far North Qld. Damian reached a top 10 ranking in the 16 & Under category and has competed in the complete range of competitions; JDS, junior and open age tournaments and AMT's in his playing career throughout QLD.
As a university student, Damian began working as a coach at the Shaw Park Tennis Centre. His passion for the game of tennis saw him work with Hot Shots, Development Squads and running adult teams. Over his two years coaching, Damian took an interest in tennis centre management and combined his coaching role with working in tennis administration as a Programs Coordinator.
After completing his university studies, Damian became Assistant Manager of the Shaw Park Tennis Centre where the club won numerous awards including the Queensland Tennis Club of the Year and the Australian Club of the Year in 2014 (as voted by Tennis Australia). The following year saw Damian take on a new challenge to manage the Roy Emerson Tennis Centre found in Brisbane's city centre. Damian has a leadership position within TennisGear and has responsibilities for Customer Experience, Leagues and Competitions. .
Damian has a strong link to TennisGear and is passionate about the values and the culture that drive the business.
Assistant Manager and Coaching Coordinator: Arzy Boorowa 
Bachelor in Commerce – Accounting
Masters in Business – Advanced Major in Applied Finance
Level One Tennis Coach
#1 player Rossal College in UK
Arzy began tennis at an early age and has continued his tennis journey as an international student and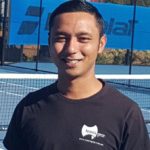 now into tennis centre management. Arzy has been involved as a coach and tennis player in India, England and Australia. Arzy is a USPTR qualified coach and has over 7 years coaching experience.
As a university student, Arzy has played and coached for beginner level to advanced at a number of tennis centres in Brisbane. He began with TennisGear in 2016 and quickly took a lead role at the Roy Emerson Tennis Centre that has 300 students and the nearby Milton State School that has over 100 children enrolled in weekly lessons. The Roy Emerson Tennis Centre was a Finalist in the Queensland Club of the Year in 2016,
Arzy is also an experienced Tournament Director and has organised tournament competitions at JDS level, Junior Tournament Level and AMT. Arzy has Tournament Director experience as high as Platinum AMT -which is the highest level of Tennis Australia Tournaments.
In December of 2016, Arzy completed his MBA; Finance from Queensland University of Technology. Arzy is now the Assistant Manager and the Development Coach for the Playford Tennis Centre and will be responsible for all the daily operations of the Centre.
TennisGear is excited to see Arzy combine his knowledge of finance and business with his passion for tennis.
Pro Shop & Programs Coordinator: Kajsa Jensen
Bachelor of Business – Major in Human Resource Management
Kajsa is an avid fan of the game of tennis having played as a junior at the Sandefjord Tennis Club in Norway. She has once again found the love for the game and is a regular participant in our adult tennis and cardio classes.
Kajsa started working for Tennis Gear at the Roy Emerson Tennis Centre in the role of programs and pro shop coordinator. She brings with her a wide range of experience in the food and hospitality industry having small stints in Minnesota and more recently as the Duty Manager of the San Churro Chains of Desert Cafe.
Kajsa has recently finished with her under graduation in business and will be an integral part of the operations of the Playford city tennis centre. In the capacity of pro shop and programs coordinator, Kajsa's responsibilities will entail the area of retail, program administration and complete operations of the Playford Cafe.
Pro Shop & Programs Coordinator: Oona Hosia
Oona began playing tennis when she was still in school and has continued to be part of the sport even in her later years. Oona has travelled the world extensively and brings a wealth of experience in administration and customer service. Being fluent in Spanish, Finnish, Swedish and English has extensively widened Oona's communication skills and has allowed her to put her bilingual skills in use at the tennis centre.
Oona is an experienced tennis administrator, before coming to join us at Playford, she worked extensively at our Roy Emerson Tennis Centre in Milton, Brisbane. There she was in charge of looking after league teams, pro shop, cafe and co-ordinating coaching classes.
TennisGear is excited to have Oona helping lead Playford City Tennis Centre in new and exciting directions with her skills and passion for the game of tennis.

Owner / Director: Mark Bloomfield
Mark is the owner and operator of Tennis Gear, a tennis centre management company that operates three of Brisbane's best tennis centres.  He is a qualified Tennis Australia accredited Development Coach and Hotshots Provider, a former member of the Tennis Coaches Australia (TCAQ),  a member of USRSA (United States Racquet Stringers Association)  and also a Chartered Accountant.  Mark purchased the Everton Tennis Centre in 2000 and has since built up the centre to be widely regarded as one of the best managed tennis facilities in Brisbane.  Everton Tennis Centre, Shaw Park  and Morningside Tennis Centre proudly boast the most successful specialist tennis pro-shops in South-East Queensland.   Mark is dedicated to tennis facility administration while maintaining the highest level of customer service and tennis equipment knowledge.
Tennis Gear General Manager: Gareth Keating
Gareth has returned to Brisbane after 11 years playing and coaching overseas.  After a strong junior career in Queensland, he was awarded a scholarship in the USA to play 4 years of Div 1 College tennis.  After completing a Business degree, Gareth worked for 5 years coaching at a high performance academy in Nice, France.  Recently Gareth has worked as a travelling/touring coach for some of the top doubles players in the world, travelling to the Grand Slams and other pro tournaments.  A recognised "Talent Development Coach", Gareth is now responsible for the coaching programs at the Shaw Park Tennis Centre, the Everton Tennis Centre and 14 schools in the area.
Tennis Gear Retail Manager: Shane Mikic
Shane began working with Everton Tennis in 2003. His role as Retail Manager involves the administration of our retail operation and staffing, as well as coordinating our fixture programs. He began his tennis working life in Townsville where he was employed as a tennis coach. After his move to Brisbane he worked in retail while continuing to work as a coach and a restringer. We are very proud to have Shane working for Tennis Gear, his tennis knowledge and stringing ability is second to none. Shane is a regular participant in the local open tennis tournaments, is a member of the USRSA and well known in the tennis community for his extensive knowledge of tennis equipment and string.  Shane has been a member of the Wilson Global Stringing Team since 2010 and strings at the Australian Open and US Open each year.
Tennis Gear Accounts Administrator: Shane Gordon

Shane brings a wealth of experience to his Accounts position having completed a Bachelor in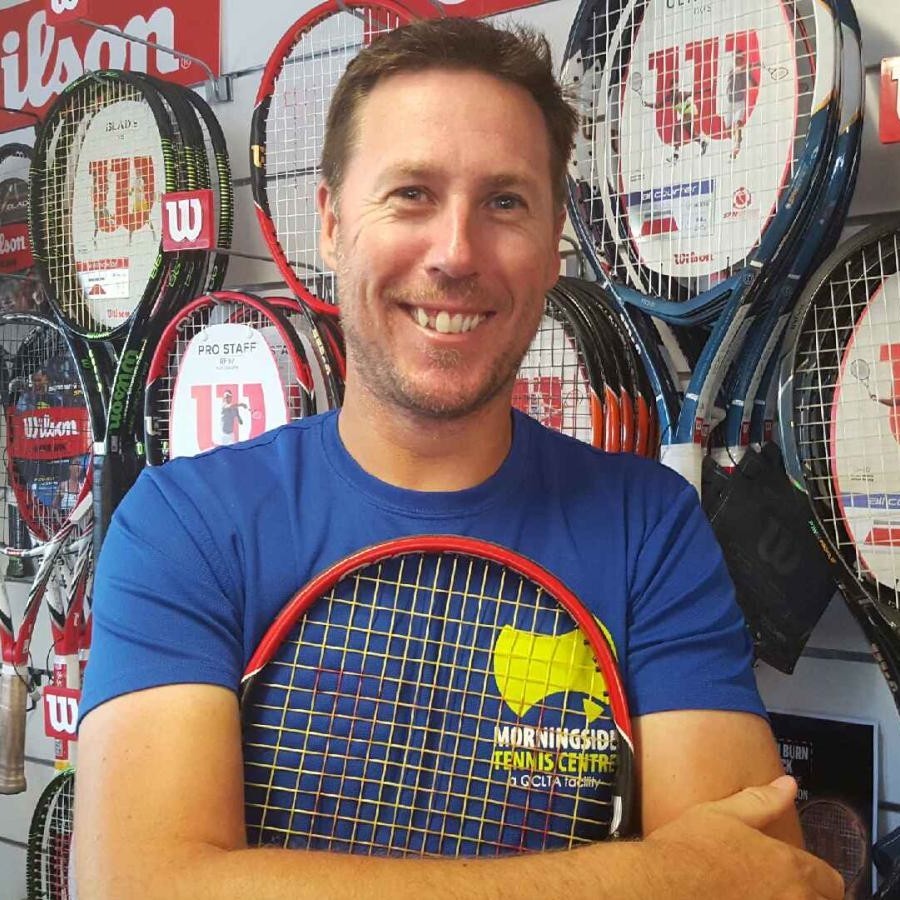 Business and Commerce, and working as QLD Manager for a global recruitment company.  After living and working in a number of countries, including Japan, New Zealand, and Australia, Shane enjoys an appreciation for many different cultures. With his kind and easygoing nature, Shane has built customer rapporteur and is a key figure in our tennis community.
His role is to prioritise ensuring your fortnightly payments are correct. Shane can be contacted at accounts@tennisgear.com.au
Contact us to talk about the best tennis coaches Adelaide has to offer today