BRISBANE-based company TennisGear Management (TGM) will be the administrator of Playford's new tennis centre, after securing the tender for the multi-million dollar facility recently. The company will be handed the Playford City Tennis Centre lease from July 1, and will have a strong focus on the making locals familiar with the facility from the outset, according to director and operator Mark Bloomfield. "We're a business that loves to connect people in the community through tennis," he said. "It will certainly be capable of large scale events and tournaments, but initially we will be about engaging with the local community. "We will be coaching, offering social tennis, as well as having club level tennis including the Grove Tennis Club. "We will be taking care of the day to day operations." TGM is responsible for the operations and delivering a number of programs at Queensland's Shaw Park Tennis Centre, the Roy Emerson Tennis Centre and the Morningside Tennis Centre. The Playford facility will be the home to the Grove Tennis Club, which will relocate from the Bicentennial Tennis Centre, located adjacent the Lyell McEwin Hospital. Initially the facility will have four TGM staff, but will expand as demands increase. "It all depends on the success of our programs," Mr Bloomfield said. "If there is evidence of success quickly, we could have staff of up to around 25 to 30." Mr Bloomfield said he is very excited to have been successful in the tender process and is looking forward to continuing the relationship with Playford Council and the local tennis community. "We are very grateful for how supportive the Playford Council has been in assisting us and we are looking forward to working alongside them and the Grove Tennis Club members," he said. Meanwhile, The Bunyip understands the Playford City Tennis Centre is also currently under serious consideration for an Australian Pro Tour tournament. Playford Council recently heard the proposal from Tennis Australia, with Mayor Glenn Docherty commenting, "council will look at any proposal that may benefit our community". The proposed host fee would be around $50,000 and the tournament would be held from Saturday, December 30, 2017, to Sunday, January 7, 2018.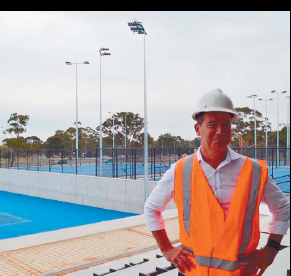 TennisGear Management director Mark Bloomfield enjoyed a visit to the new Playford City Tennis Centre since securing the management tender.
Page 1 of 2 31 May 2017 Bunyip, Gawler SA Author: Laura Collins • Section: General News • Article type : News Item Audience : 9,500 • Page: 36 • Printed Size: 352.00cm² • Market: SA • Country: Australia ASR: AUD 796 • Words: 383 • Item ID: 784310656 Licensed by Copyright Agency. You may only copy or communicate this work with a licence.